Background
Scaleswap contacted us as they were having difficulty in creating an efficient user interface, which would provide their users with a lot of information in a simple format. As specialist in eCommerce, we have years of experience delivering effective UX - providing great customer journeys, and this project may not have been specifically eCommerce; however, it was the sort of challenge we love and thrive on. The site had to be able to handle over 30k potential investors, providing them with all the project information and enables them to connect their cryptocurrency wallets to perform crypto currency exchanges (swaps) from Ethereum to wETH, thus enabling the user to be able to invest in the projects. Unlike other projects, they were behind on their deadline – so we had to have the designs completed within eight days, enabling them to meet the deadlines.
Discovery
Working closely with their team, we started off with the discovery stage, gaining a greater understanding of what they wanted to achieve with their DeFi project. After gaining this understanding we were able to create customer journey schematics, which best suited their functionality and the users journey.
Design Development
Now we had a direction and a strong plan we were able to make a start on their UX. We revved up Illustrator and Figma engine. Figma is a fantastic tool, as it allows for clients collaboration at all stages of the design process, and permits the developers to see pixels dimensions – speeding up the frontend build process. Once the first design concept was signed off, we could then start creating the underlying functionality, whilst the developers made a start on building the first design.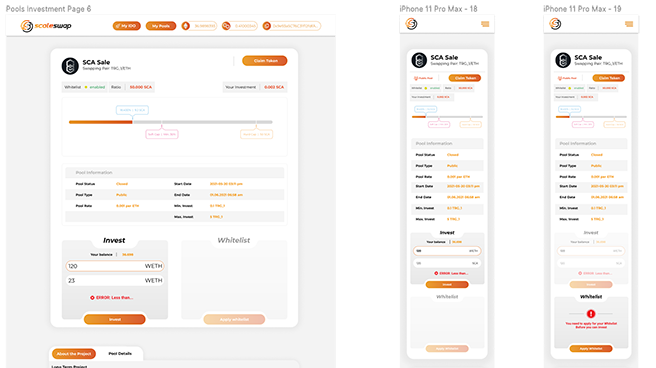 Results
After team testing, Scaleswap organised for around 200 beta testers armed with test cryptocurrency wallets, this went swimmingly well and we had great feedback on the design and functionality. Finally it was time to put the design into full swing and release their first public IDO on the new Scaleswap platform. This was an incredibly successful public sale raising $175,000 which was completed in less than 27 seconds, by just shy of 2000 users. Reading all the responses on Telegram, they are extremely impressed with the user experience.