Client: Discount Hardware
Industry: Home Improvement and Furnishing
Location: USA
Website: discounthardware.com
Platform: Adobe Commerce Cloud (former Magento Enterprise)
Project  Overview:
Our client, Discount Hardware, is a leading provider of door hardware products and services with a physical showroom in the USA. Their goal was to develop a comprehensive and user-friendly online platform to showcase their offerings while ensuring seamless integration with their brick-and-mortar store. We were tasked with designing and developing a new eCommerce website that would captivate users and drive online sales.
Design and Development Process:

1. Initial Consultation and Planning Stage
It's important to have a smooth project process, we initially started by assessing the client's requirements, allowing us to understand their target market. This information is imperative for us to create a strategic plan for the website build and a design, that focuses on their user experience (UX) and user interface (UI), ensuring that their site would be intuitive and easy to use.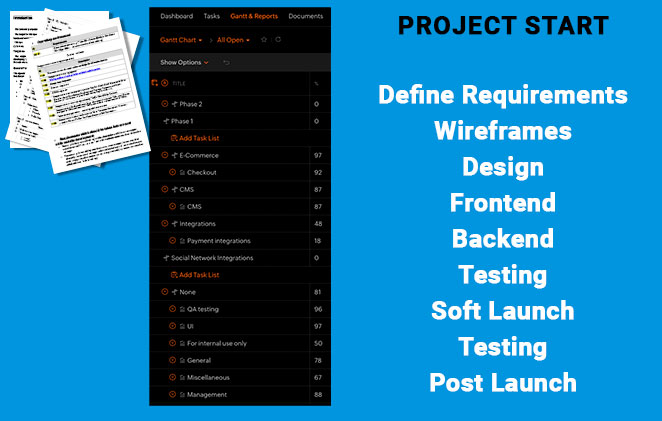 2. Design Phase
Our web design team utilised a collaborative application called Figma, which is the standard for creating wireframe prototyping and designing standard websites and eCommerce stores. Figma allows the client to directly chat with our designers – which definitely speeds up the design process. Our aim was to create a clean, contemporary-looking website store that would effectively showcase the client's products and general offerings. We focused on creating a perfect balance between aesthetics and functionality, using clear call-to-actions (CTAs) to guide the users through the buying process.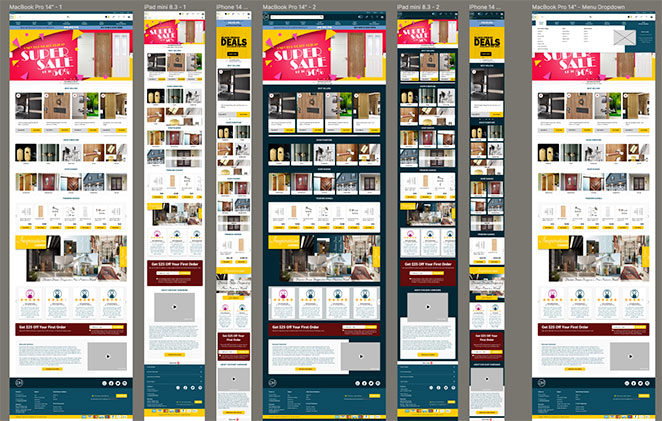 3. Development Phase
Once the design was approved, our development team started building the website using Magento 2 (Adobe Commerce Cloud PaaS), a powerful and flexible eCommerce platform that provides the necessary tools to create a seamless online shopping experience. Using Adobe Commerce Cloud ensures scalability and high performance, taking full advantage of its numerous features and integration processes.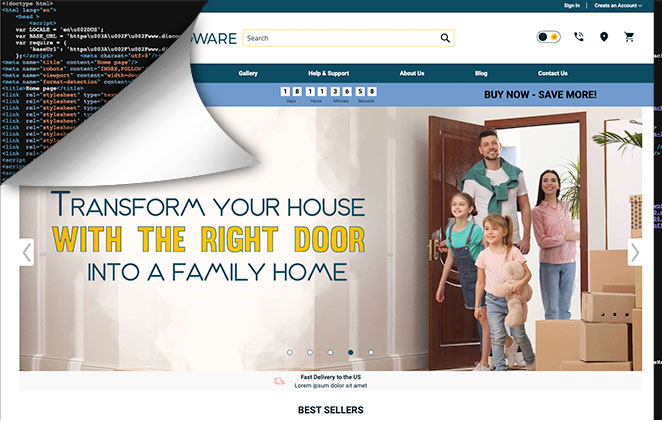 4. Launch and Ongoing Support
After rigorous quality assurance testing, the new Discount Hardware store was launched. Our team will continue to provide ongoing support with their phase 1 release, monitoring the site's performance and implementing any necessary updates to maintain its functionality and user experience. Now the site is launched, we will be starting phase 2 of the project to add further functionality, such as ERP (Enterprise Resource Planning) integration, enabling automated business processes – providing sales insights and internal controls.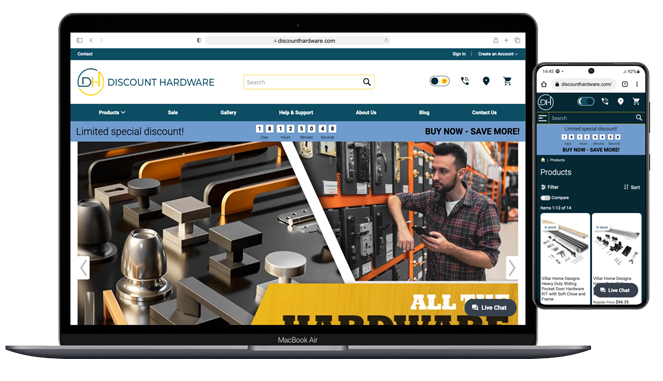 Key Features of Discount Hardware:
Clean and intuitive UI with perfect CTAs, ensuring a smooth shopping experience for customers.
Two display modes (light and dark) to cater to user preferences and enhance overall accessibility.
Responsive design to provide an optimal viewing experience across various devices.
Seamless integration with the client's brick-and-mortar store to enable real-time inventory updates and synchronize customer data.
Comprehensive product filtering and search options, allowing users to easily find the perfect door hardware for their needs.
Final Results of Building their eCommerce Store:
Although the website just went live, people are already loving it! We've had many positive comments about the sleek design and how easy it is to find their way around. Plus, the seamless connection between the online store and the physical showroom is a total game-changer. Our client is super excited about the potential this new platform has to skyrocket their sales and make their brand shine even brighter online.
Moving Forward:
As the Door Hardware Showroom continues to grow, we are committed to providing ongoing support and ensuring that their online presence remains cutting-edge. We will monitor website performance, implement improvements, and stay up-to-date with the latest eCommerce trends to help our clients maintain a strong competitive edge in the door hardware market. Our client's success is our success and that's something we love.